Hisense REF628DR 628Litre Infinite Side By Side Refrigerator
DESCRIPTION/PRICE IN KENYA ;
Hisense REF628DR 628L Price in Kenya is KSH 189,995/- LOWEST at Hisenseke. Shop with us, and get incredibly affordable pricing on genuine products. Countrywide deliveries.
KEY FEATURES
628Litre Capacity
Wi-Fi connectivity: Update fridge settings via ConnectLife App
Non-plumbed water dispenser
2 Star Energy Rating
Multi Air Flow system
Electronic temperature control
Interior LED lighting
Dual freezer drawer
Wine rack
10-year warranty
Digital Sensors
Total no frost
Bigger Racks,160mm depth for 2L beverage bottle
A+ Energy rating
Metal Cooling
2 Year Manufacturer Warranty Hisense>>>
This PureFlat Infinite fridge caters to the whole family! It's the perfect blend of elegance and style with its PureFlat design, a large 628-liter capacity, and smart connectivity.
Hisense REF628DR 628L has a brushed metal panel at the rear of the fridge interior to help evenly disperse a cool temperature throughout the main refrigerator. Metal-Tech Cooling will help the fridge retain its cool temperature after the fridge door has been opened.
Hisense's Inverter Technology maintains ideal temperatures with superior energy efficiency, meaning a quieter fridge with better cooling and everyday reliability. With in-built Wi-Fi connectivity, you can control this fridge's temperature settings wherever you are via the Hisense ConnectLife app.
The refrigerator's oversized balcony provides the perfect space to store bulkier items. Soft LED lighting is designed for a more clear overview of the contents of your Hisense REF628DR 628L fridge. The light is brighter and more efficient than standard fridge bulbs, and it also saves energy.
Control your Hisense REF628DR 628L fridge and freezer's temperature with ease using the inbuilt digital control panel. Thanks to the even distribution of cold air achieved by the Multi-air Flow System, the optimal temperature is consistently maintained throughout your refrigerator. It helps keep your food chilled to perfection no matter where it is placed.
The back wall of the main Hisense REF628DR 628L refrigerator compartment is overlaid with stainless steel, which ensures even distribution of cool air from the inside out. This combination of advanced technologies always ensures ideal temperature levels while preventing the loss of cool air and frost build-up in the fridge.
The convenient in-built water tank allows for the enjoyment of filled water and ice on demand without needing a plumbed water outlet in your kitchen. Simply top up the water tank and the fridge will do the rest. Multiple Digital Temperature Sensors are built into the refrigerator, which accurately and constantly inform our Durable Inverter to optimally adjust the cooling and freezing level of the Hisense REF628DR 628L refrigerator.
If the freezer door is left open for too long the fridge will sound an alarm, ensuring your food stays fresh. In conclusion, have peace of mind with a 3-year comprehensive refrigerator warranty and 10-year parts warranty on the compressor.
Large Capacity
The PureFlat Infinite caters to the whole family, with a modern flat door design, ample storage capacity for all of your food storage needs, and a dual-grip recessed handle for easy access.

Hisense REF628DR 628Litre: Multi Use Bevarage Tray
Extra space
Hisense REF628DR 628Litre :Gallon Door Balcony
xxl Door Balcony
Non plumbed Water Tank
Smart Connectivity


Concealed Hinge

Recessed Handle

Ice & water Dispenser.
Dual Temp Control Zone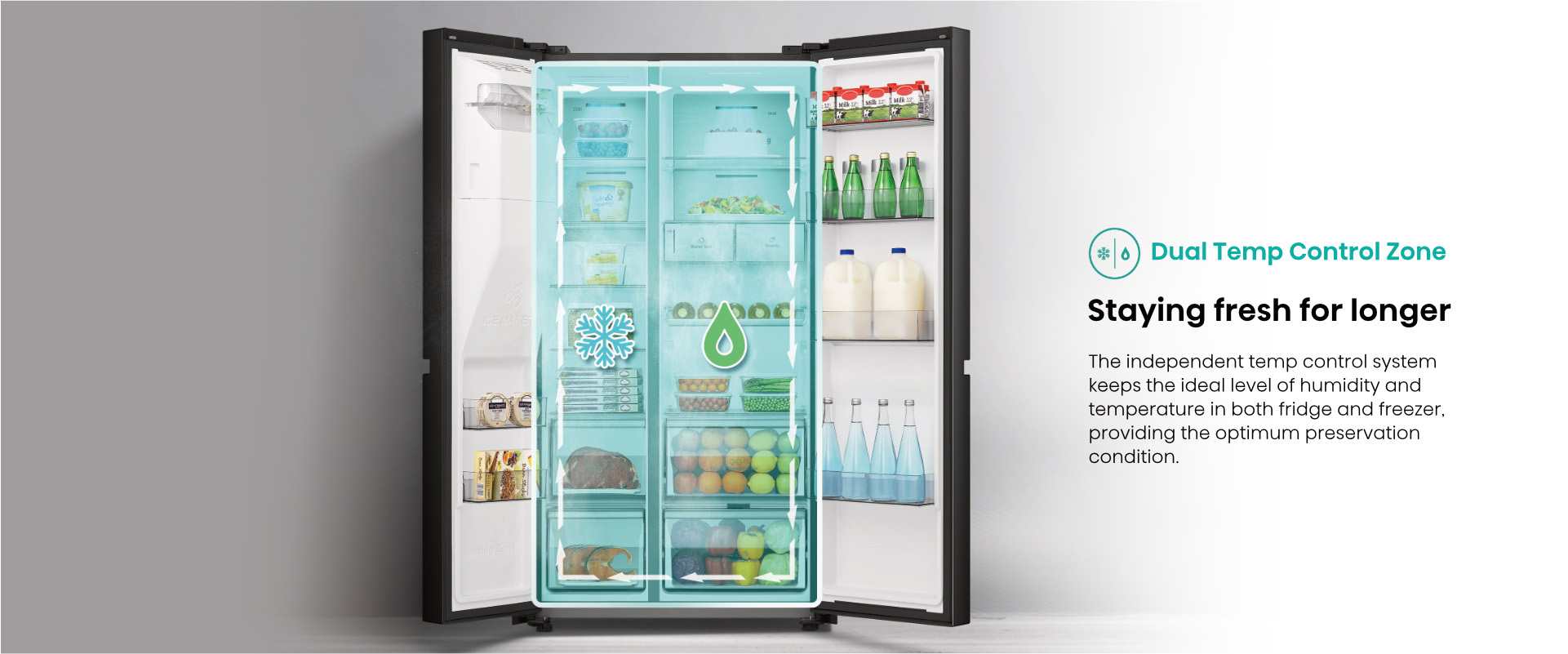 Soft LED Lighting
Multi Air Flow

Voice Control
Hisense REF628DR 628L  Price in Kenya is lowest at Hisense Kenya. Buy it from us and enjoy Secure (Pay on Delivery) and Fast delivery, 2-3 hours for Nairobi, Next day Countrywide or visit our shop at Rehema House,standard street. opposite Sarova Stanley Hotel Nairobi, 6th floor Room 1.